Your microsoft office apps
To improve your company productivity
Microsoft 365 offer robust cloud services designed to meet your organization's demands for security, reliability, and productivity. Take advantage of the latest versions of software and applications with regular updates. These services are compatible with all devices on the market (PC, Mac, Tablet and Mobile) and all brands.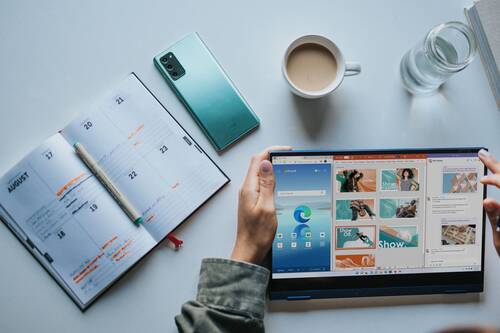 Your ally in the collaboration of your teams
Microsoft Teams, communication, and management support
Employees working from multiple locations need a secure collaborative platform. Microsoft Teams is the platform designed especially for teamwork. Thanks to its many features, adapted in multi-media format, it deploys a wide range of features:
Collaborate in real time


The services available on Teams allow you to access instant messaging, make audio and video calls, enrich meetings through videoconferencing. You can easily create and manage your schedules when you are on the move, and stay informed of changes made.

Secure access and identity protection


Easily manage your different groups or teams in the application, and thus maintain control over the information shared there. Combined with Microsoft Authenticator, a dual authentication mobile application, will allow you easy, convenient, and secure access.

Strengthen your team spirit


Create a space conducive to exchange between your employees in order to build a work environment conducive to the sharing of ideas. Give the opportunity to learn from each other and share business projects regardless of their location.